Shimadzu AUY 220
Description
Reviews (0)
Specifications
Description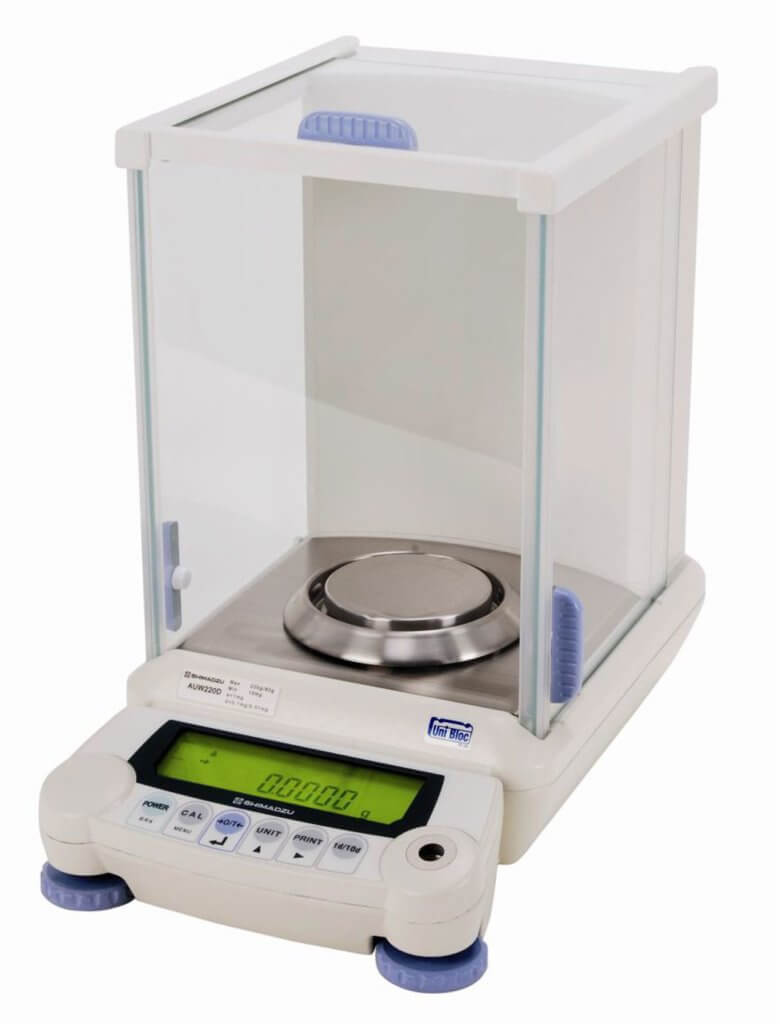 AUY Series dual-range semi-micro balances are the world's first five-decimal balances with the advantages of UniBloc one-piece force cell technology.
Choose one of the two models according to your requirements
Excellent response, stability and zero return performance in a semi-micro balance.
Automatic span calibration
Choice of fully-automatic calibrations: PSC and Clock -CAL
Operator can choose from two types of fully-automatic span calibration methods. "PSC" is initiated based on temperature change detection, and "Clock-CAL" operates at user pre-set times (up to three times a day).
Automatic calibration at user-preset times.
The balance automatically performs calibration at selected times, up to three times a day (e.g. before starting work, during lunch-break or after work).
Fully-automatic calibration PSC
The balance detects variations in the ambient temperature that influence accuracy and automatically performs calibration to compensate it.
Data management
GLP/GMP/ISO calibration report
Calibration report can be automatically printed with the optional electronic printer. Date, time, serial
number and ID are also output to meet GLP/GMP/ISO requirements.
Windows Direct function
The balance communicates directly to a PC with Windows® applications. No additional software is
needed to interface with spreadsheets, databases, word processing, and laboratory software.
WindowsDirect works with Windows® 95, 98, 2000, NT4.0, ME and XP. PC must be IBM PC/AT
compatible.
Application support
Interval timer
Weighed data can be output to external devices at user pre-set intervals.
Piece counting mode
Formulation mode
Specific gravity measurement
Below-weigh hook for Hanging measurement
AUW320
SHIMADZU ELECTRONIC ANALYTICAL BALANCE AUY 220
Make
Shimazdu
Model
AUY 220
Capacity
220 gms
Readability
0.1 mg
Volts
12 V DC
Repeatability (Std. Deviation)
</=0.1mg
Linearity
+/-0.2mg
Response Time
3 secs.
Operating ambient Temp.
5 to 40 Deg.C
Temp. coefficient of sensitivity (10 to 30 Deg.C)
+/-2ppm/ Deg.C
Pan Size
80mm dia approx
Body Dimensions
220mmW x 330mmD x 310mmH approx.
Weight
7kg approx
Various units available
Windows Direct function
RS-232 I/ F
Specific Gravity measurement software
Piece Counting function
% display function
Unit Conversions
Analog Display function