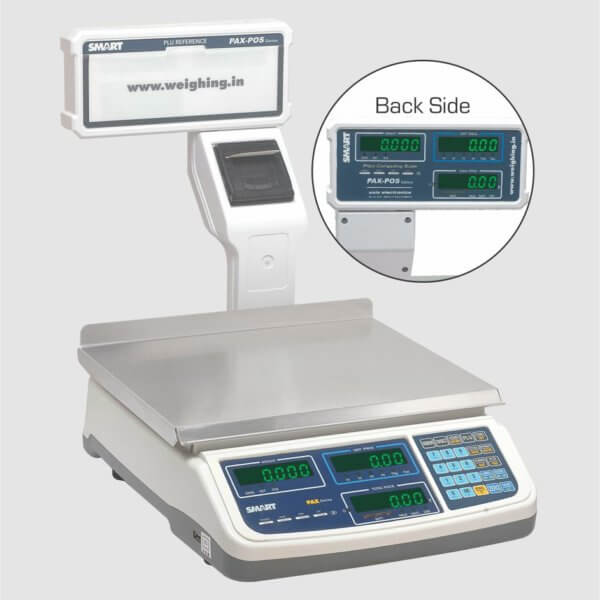 PAX-POS Series
The PAX-POS SCALE is a price computing receipt / ticket printing retail scale having a high impact ABS housing with durable keypad contribute to the PAX-POS's robust build and its LCD displays with bright Red LED make it practical for most environments. The scale features individual customer and operator displays making it ideal for market traders, Super market or shops.
It consists of a high-speed Built in thermal printer for receipt printing. Easy paper handling is achieved with a simple loading mechanism. Store name and message can be printed on the receipt. This scale uses USB feature for data import & export from scale to PC. Bluetooth connectivity also available.
It features Tare and Zero functions, 299 PLUs for faster transactions. The PAX-POS is suitable for weighing items up to 30kg. This scale is easy to use with full range Tare, Preset Tare and auto-zero tracking available. It can be powered from the rechargeable battery, or by the mains.
Description
Reviews (0)
Specification
Brochure
Description
Features :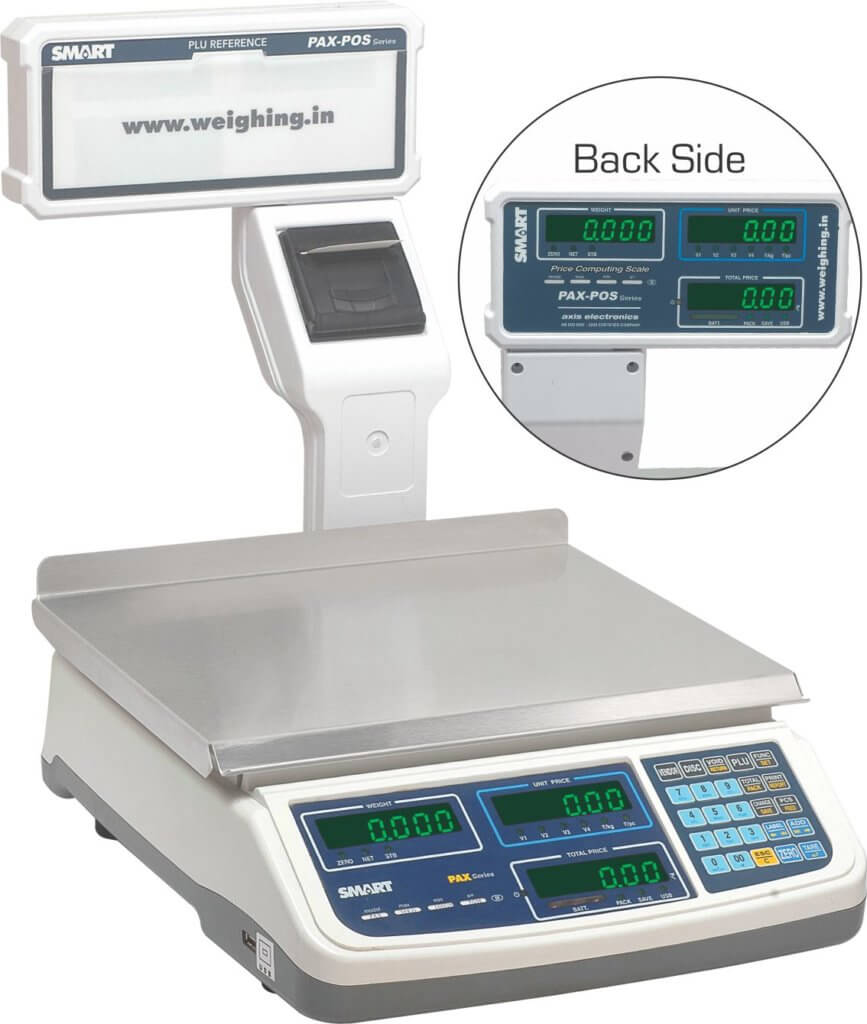 Up to 1/15,000 display resolution
299-2000 PLU's, 4 Vendors, 4 VAT, 20 Groups
Support for weighed and non weighed, price/unit, price/pc
Direct Label receipt printing option with Shop details, product, unit price, qty, total amount, tendered amount, change, date time etc.
3 displays : Weight, Unit Price & Total Price
Complete PLU management, Support void Transaction
Training Mode for user training
Read / Dump Prices from USB / Excel file (Optional)
Remote Price Update with GPRS option
Print ticket or label (on external printer) / Barcode Option
Stock Control Module (Option)
Reports : PLU Listing, Bill Clerk / PLU wise sales, Duplicate Bill Hourly, Weekly, Monthly, & Yearly Sales, VAT Report
PAX-POS SERIES

Order Code
Capacity (kg)
Division (g)
Display
Platter(mm)
Accessories
PAX-POS-15K2
15kg
2gm
0.56" Large
LED Display
Green
350 x 260mm
SS Body Printer
500 Memory
1000 Memory
2000 Memory
USB Disk Interface
USB PC Interface
GSM - GPRS
PAX-POS-30K5
30kg
5gm
PAX-POS-30K5D
30kg / 15kg
5gm / 2gm
| | |
| --- | --- |
| Capacity / Increment | Functions |
| • 15kg x 5g / 15kg x 2g | • PLU Management |
| • 30kg x 10g / 30kg x 5g | • Void transaction |
| • 15/30kg x 5/10g dual range | • Discount on ticket |
| • 15/30kg x 2/5g dual range | • Suspend |
| Memory | • Read / Dump Prices from USB / Excel File (optional) |
| • Upto 999 PLU Memory (299 Std) | • Save Price / Pack Mode |
| • 4 VAT Types | • Remote Price Update with GPRS option |
| • 4 Discounts | • Print ticket or label(on external printer) |
| • 20 Groups | Reports |
| • 4 Vendors at a time | • Sale Summary • VAT List Report |
| Display | • PLU • Voids / Returns |
| • LED Bright Green Display | • PLU Edit List • Hourly Sales |
| • 6-digit weight | • Yearly Sales • Weekly Sales |
| • 6-digit unit price | • PLU Sales • Monthly Sales |
| • 6-digit total price | Other |
| Power | • Zero/Tare • Void Key |
| • 240 VAC, 50/60 Hz | • Printer Feed • RF Connectivity |
| • 12 VDC/3.3Ah rechargeable bat tery | • Date/Time |
| (Lithium Ion battery option available) | Options |
| Working Environment | • 12 VDC/3.3Ah rechargeable battery |
| • Temperature: -10°C to 50°C | • Tower Kit |
| • Humidity: 85% RH, non-condensing | • RF Connectvity for Master Slave Config. Connect upto 32 scales |
| Dimensions/Weight | • USB Mass Storage / Thumb Drive |
| • Platter: 345 mm x 290 mm | |
| • Net Weight: 6.6 kg (without battery) | |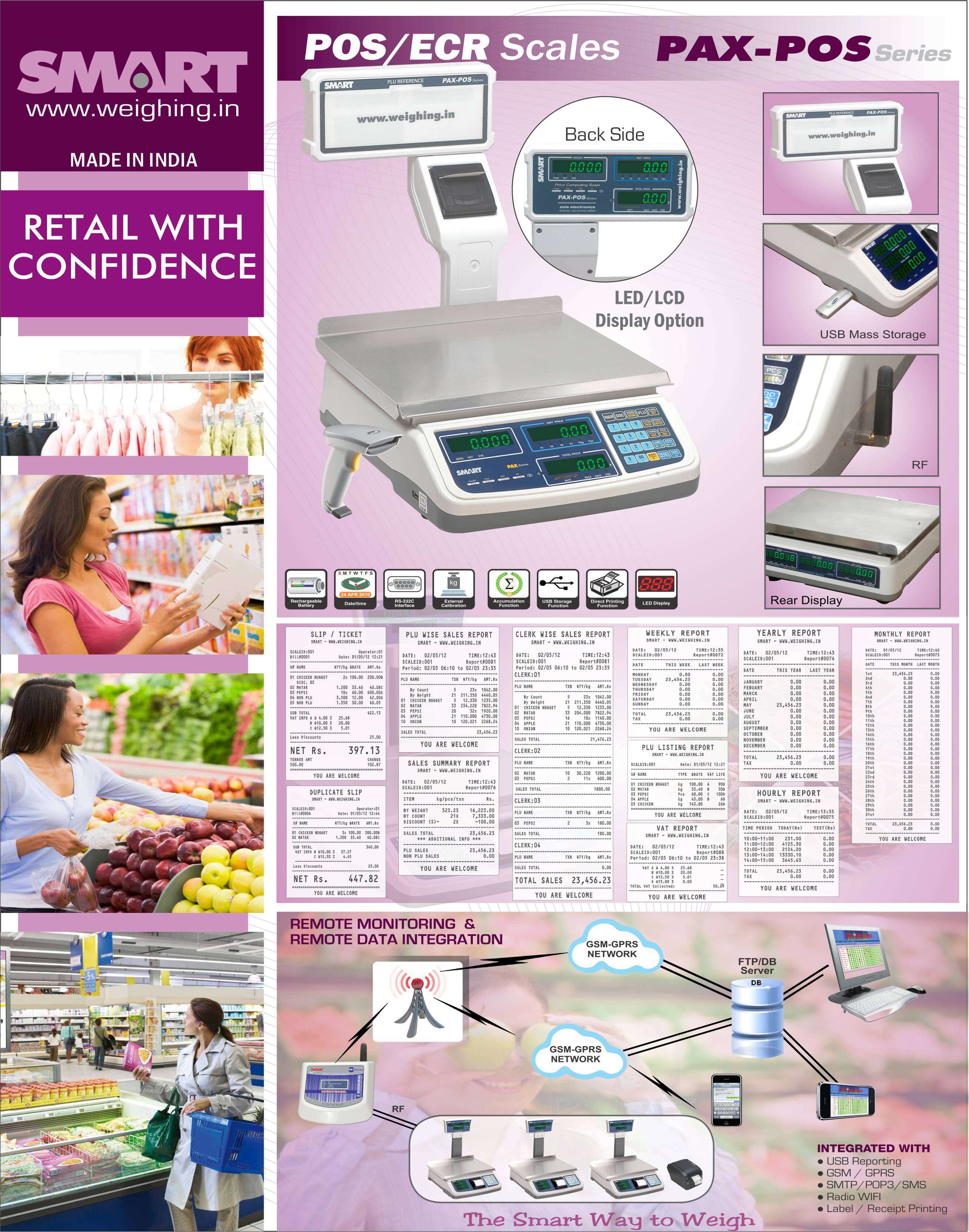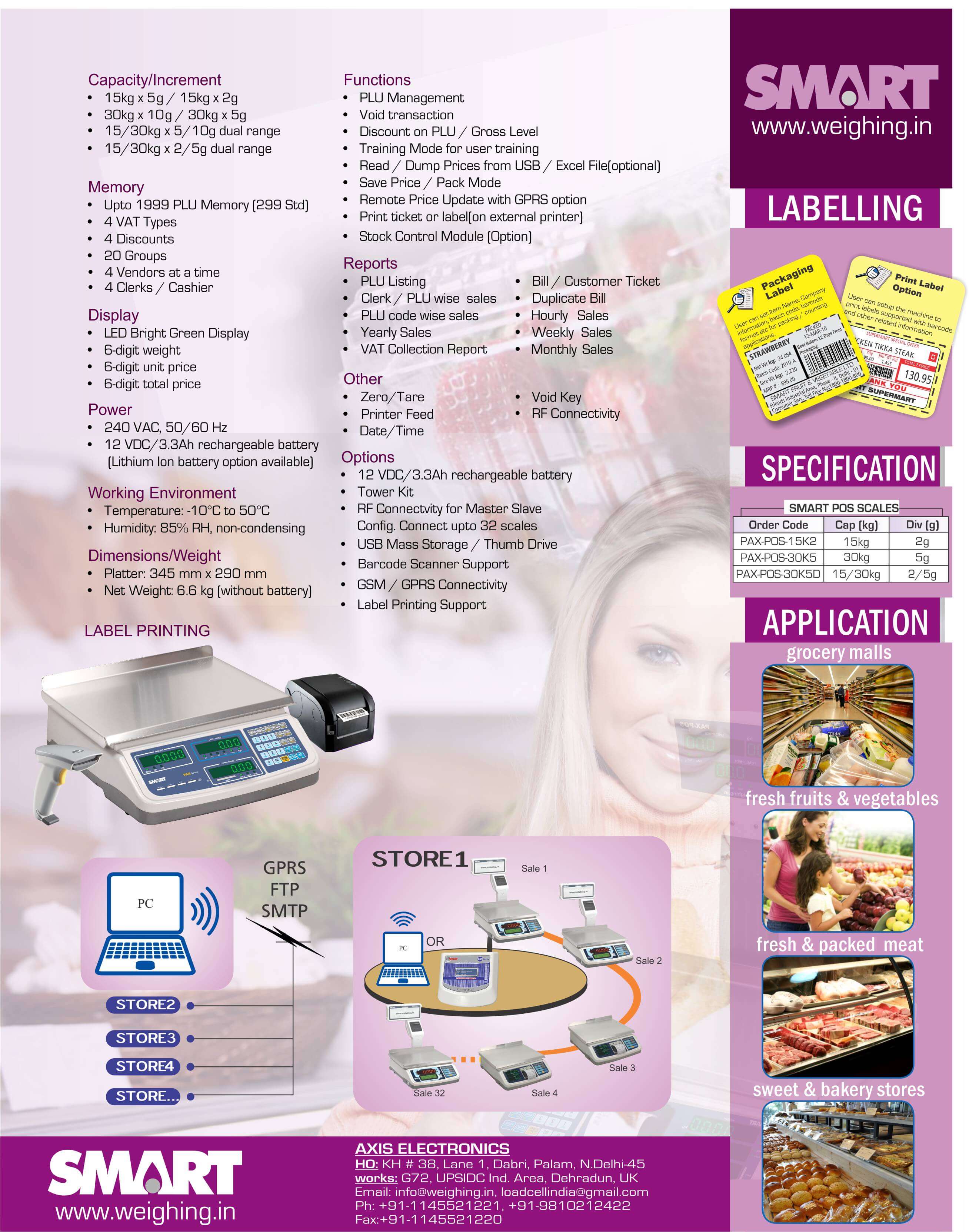 Download Brochure Click here